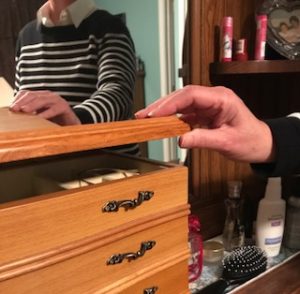 Lifting the lid on her jewelry box filled me with anticipation and apprehension. Longing to connect with my sister pushed me past the awkward feeling of invading her privacy.
What I found was worth my uneasiness.
Taped to the underside of the lid was a list. Something she would've read  as she donned her jewelry each morning, then tucked it safely away at night.
It was a bucket list, of sorts. Not the kind that dreams of exotic places and unforgettable experiences. It was a list of healing; to live a life of love and meaning.
This list paved the way to joy around the bend of heartache and loss  from her recent divorce and  breast cancer diagnosis.
I lost more than my sister  when Kim died in a car accident. I lost my confidant, mentor, and friend. The loss was great and too heavy to bear. Have you ever felt that way? I yearned for her comfort and hope-filled advice on how to get through her sudden death. Would I find it reading through the list?
A sense of peace and comfort washed over me as my eyes beheld the list. Her handwriting brought a deep connection, past her words into her heart.
As I scanned each phrase on her list, tears slid down my cheeks. Each written desire was met in my mind with memories of how they were fulfilled.  If this was a "To Do" list she could've checked  off each box. Every. Single. One.
At the time Kim penned her list she was living with our ailing mother, in part, to recuperate and heal as well as help take care of mom. I took turns with all my sisters to relieve her on the weekends. I recall one day reading a question she'd written on her desk blotter:
How can I know I am saved?
Since she wasn't home at the time I wrote out 1 John 5:13…
"I write these things to you who believe in the name of the Son of God so that you may know you have eternal life."
Conversations about God's word and his ways filled my weekend with joy as she came to a fuller understanding of who she was in Christ.
Kim lived with our mom several months before reconnecting with a friend she'd dated in college. Their relationship grew into a courtship. It was a beautiful thing to watch blossom.  She was like a school girl; almost giddy with love, even writing her first and anticipated new last name on scraps of paper.
After her painful divorce, I never dreamed I would ever see her so happy. She affectionately referred to this man as her Boaz, redeeming her wounded heart with his love for Christ, and his love for her. Their love found fulfillment and purpose as they planned to marry and serve on the mission field together. By God's grace, she was healing from her divorce.
While recuperating from chemotherapy, Kim discovered a program based in Colorado, "The Seven Levels of Healing". Attending that course  provided wholeness and inner healing to accompany the physical health she was beginning to experience. Desiring to offer hope and healing to other patients receiving treatments at the cancer center where she worked as a nurse, she purposed and succeeded in bringing it to her center. It's brought hope to many.
One young patient in particular considered my sister a blessing. By God's design, and in his perfect timing, I met her two months ago.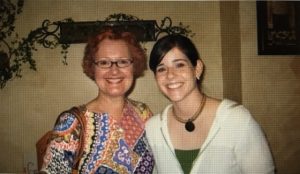 Over coffee and a pumpkin muffie, I wept as she shared how  instrumental Kim had been  in helping her find hope in the midst of her cancer diagnosis at age 17. The two kept in touch. I actually recalled my sister attending her wedding. Danielle wrote a blog post expressing her feelings about Kim. She conveyed her belief that Kim's purpose was offering hope to others.  More tears flowed because God taught me to hope: hang onto possible endings the year Kim was killed.
Kim met Jesus while driving home after teaching a Seven Levels of Healing class. She and her Boaz had been married only seven weeks. Many said it wasn't fair that Kim died  so soon after finding happiness. Never having children of her own, she loved her Boaz's three adult children like a mother. She was cancer free, healthy and all was well with her soul.
When I lifted the lid, read the list, it hit me. She died happy. Not many people live happy, let alone die happy. Kim did both.
Life isn't fair, and accidents happen. God could have intervened. One split second and everything could have been different. But she'd found her purpose, and fulfilled it; like King David.
"Now when David had served God's purpose in his own generation he fell asleep" Acts 13:36
Her list gave me the comfort I yearned for. Even in death, she was speaking hope into my life. Serving God's purpose brought hope and healing to her patients, herself, and now to me.
What's on your list?
© Cindy Richardson 2018