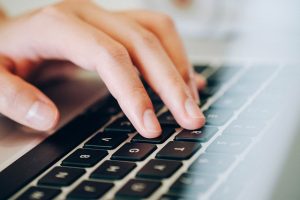 With trembling fingers I write, between wiping my tears and taking deep breaths to slow them. Who says there is no God? Who says we cannot trust his will or his ways? Who says that God doesn't work all things for our good and his glory? My heart is full, and my faith is fuller.
Beginning in 2009, a series of events threatened to derail my faith in God,  destroy my dreams, and drag me to the pit of despair.
It started during my daughter's junior year in high school. We'd always been a close knit family yet I sensed her pulling away from us. My mother's dementia and failing health were getting worse.  Traveling to help care for her on weekends was beginning to take it's toll on my health and family relationships. Oppositional opinions existed between my siblings on the best way to handle her care, creating even more stress. When I wasn't physically absent from my home, I was emotionally bankrupt.
The rebellion of my daughter ended with her leaving our home to live with her boyfriend. She was gone five months before returning. I was devastated when the following month we realized that she was pregnant. This was not the way I wanted to join the Grandparent Club. Unanswered questions plagued my mind. How did we get here?  Will she finish school? Where do we go from here?
Alzheimer's hijacked my mom, robbing me of her comfort, wisdom, and faithful prayers.  The longing to talk to my mom about my crisis widened the deep cavern of sadness in my heart.
I turned to my oldest sister, Kim.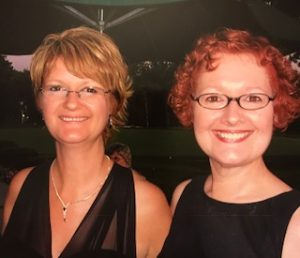 Despite a divorce and breast cancer diagnosis, her joyful hope as a survivor was contagious. Her grace-filled responses were a healing balm to my weary soul. Then unexpectedly, her comfort, wisdom, and friendship were cut off; she was killed in a car accident.
I was desperate to believe that God would one day make sense of all this suffering and reveal his plan for the pain and hellish year.
My sister used to quote a favorite saying: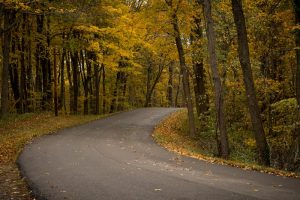 "The bend in the road isn't the end of the road, unless you refuse to take the turn."
Turning to God's word to help me with this unexpected and unwanted bend in my road, I found  Psalm 27:13: "I remain confident of this: I will see the goodness of the Lord in the land of the living."
I looked for God's goodness and found it in many places; but those are for another day. This post is to highlight God's goodness today.
First, a little more back story. Three years ago I attended a writer's conference in the quest to learn how to write my story of hope. It would be a challenge to learn to write well enough to one day be published.  Add in the requirements of publishers for authors to have a "platform", aka write a blog and have a following; I was discouraged.
In answer to prayer the Lord gave me courage to start this blog. It was scary and challenging, but I found that despite the hard work, I enjoyed writing.  Last year at the HACWN writers conference I signed up to have my blog critiqued.
That's when I first met Eryn Lynum,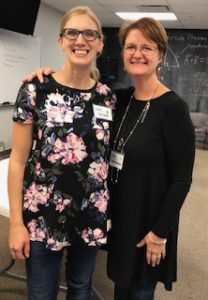 author of 936 Pennies, set to be released in February 2018. It began a friendship and a divine appointment that only God could've set.
I reconnected with her at this year's conference. Accepting an invitation to contribute to her new blog, I "met" the other writers on Facebook. Reading each introduction grew my excitement to be part of this group. Then my heart began to race and I felt a catch in my breath as I sensed a connection to one blogger that ran deeper than writing about parenting.
Diagnosed at 17, she was a cancer survivor from the city where my sister worked as an oncology nurse. Her story sounded familiar. I recalled Kim showing me her beautiful picture in a calendar of cancer survivors. I had to know if she was the girl my sister had prayed for, cheered on, and rejoiced with at her wedding. Kim was so proud of her of her courage.
Quickly friending her on Facebook, I sent an  instant message.  No reply. I sent her a second one, apologizing if I was offensive beginning a new relationship with questions about her treatment.  Feeling almost desperate to know if she knew my sister,  I  tried one last time on the 936 Pennies group page, then went to bed.
Anxiously I checked Facebook first thing in the morning. The answer I knew in my heart was confirmed. My heartbeat picked up speed as I read her reply.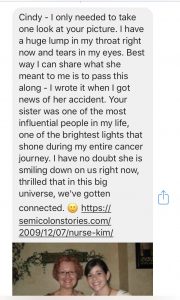 Tears streamed down my face as I read how my sister  had been instrumental in helping her hang onto hope through her cancer treatment.
I wept because Kim shared hope with Danielle, and I write about hope.
I wept because somewhere in the midst of  teen rebellion and pregnancy, Alzheimer's disease, and a tragic accident, God led me to discover the power of hope.
I wept because someone else loved my sister for all the same reasons I did.
When God gave me the acronym for hope as  Hang Onto Possible Endings, I never dreamed that one of the endings would be to connect with a fellow writer who was inspired by my sister to hang onto possible endings herself.
Now, even if my story is never published, it is enough. Enough to know that the God who takes away, is also the God who gives; blessed be His Name.
Enough to bask in God's goodness to me as I experienced the full circle of grief and hope seven years after my sister's death; the number the Bible uses for completeness and perfection.
Enough to know that no matter what circumstances might be around the bend, hope will be waiting for me.
How about you, what possible ending are you hoping, dreaming, or praying for?
"May the God of hope, fill you with all joy and peace as you trust in him, so that you may overflow with hope by the power of the Holy Spirit." Romans 15:13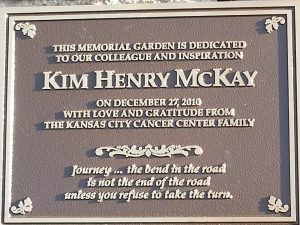 Let me know if I can help you find hope around the bend.