Dear friend,
I am very excited to be returning to Ethiopia on Sunday. The Lord has done great things and I am filled with joy! Please join me in praying for our team.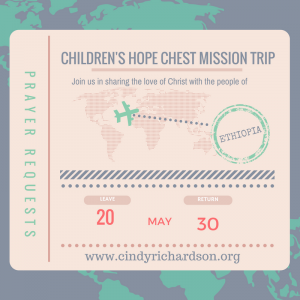 On Him we have set our hope that He will continue to deliver us, as you help us by your payers. Then many will give thanks on our behalf for the gracious favor granted us in answer to the prayers of many. 2 Corinthians 1:11
1. For peace, clarity of thought, wisdom and discernment for team leader.
2. For health and strength for the journey. From the time we leave to the time we arrive we will have traveled 2 full days; 20 hour international flight.
3. Travel totes to arrive on time and intact.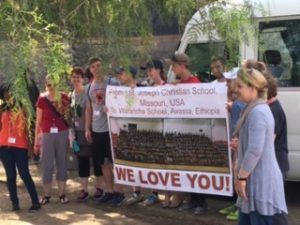 4. Ability to learn a phrase in Amharic to share during a worship and fellowship time.
5. That we would be a blessing, encouragement, and inspiration to the leaders, teachers, interpreters, children and families at the Care Points, Carry 117, and other orphanages.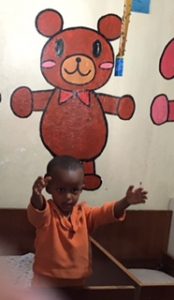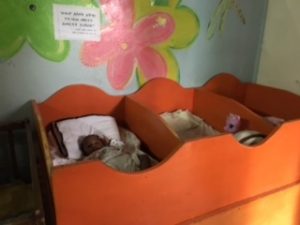 6. Safety and protection; physical, mental and especially spiritual warfare.
7. Spiritual growth and unity  among our team.
8. St. Joseph Christian School Community to Warancha Community bonding; sweet fellowship with Children's Hope Chest staff.
9. That we would walk worthy of this calling; by God's grace serve in humility at every opportunity presented to us.
10. For Christ's love to be the driving force for everything we do and say.
11. Peace of mind for the families of our team as they entrust us into the Lord's care.
11. For the salvation of many as we share the gospel.
12. Mutual encouragement of our faith as we visit with believers in the village and Carry 117.
"I long to see you so that I may impart to you some spiritual gift to make you strong, that is that you and I may be mutually encouraged by each other's faith."
Romans 1:11-12
Specific requests for me:
1. Protection over my health. Specifically my back (currently it's very sore), plantar fasciitis in my foot and heel spur. If you've prayed for me before you know I got very ill on the plane my first trip; I would love to stay healthy!
2. Peace and truth to reign in my mind; I've had strange dreams and some anxiety about going that I've not experienced before.
3. I will be spending some extended time at Carry 117. Please ask the Lord to help me write about this amazing ministry. Direction for our fellowship and worship time together.
4. Energy…I'm no spring chicken!
5. I would have opportunity to witness in airports, on the plane, with whomever and however the Spirit leads. I had some incredible opportunities on my last trip and look forward to what God has in store for these travel days.
"Thank you" seems inadequate for the spiritual work you will do as you partner with us in prayer. Only heaven truly knows the impact your prayers will have for the sake of the gospel and for eternity.
"I thank my God every time I remember you. In all my prayers for all of you, I always pray with joy because of your partnership in the gospel from the first day until now…" Philippians 1:3-5
Please join me in praising God for:
1. The opportunity to meet the little girl I sponsor; the cutie in the red dress.
2. Providing financially for my every need for this trip.
3. Honor of taking greetings and encouragement from American believers to Ethiopian believers through notes and cards.
4. Joy of sharing the love of Christ and the opportunity to strengthen my faith in the process; an unspeakable privilege.
I'll try to post during the trip, sometimes internet isn't always available though. Thank you again for your prayers!
Comment below that you're praying, or better yet type out your prayer!
Blessings in abundance,
Cindy
© May 2018