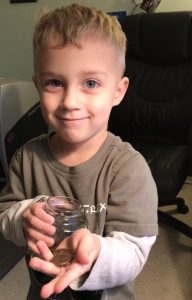 "Why do you have pennies in a jar? What are they for? Can I play with them?" My three year-old grandson, Eli fired his questions in rapid succession.
"They help me think about how I want to spend my days. And yes,  you can play with them." I replied.
Inspired by Eryn Lynum's book 936 Pennies: The Joy of Intentional Parenting, I had originally  put 48 pennies in a jar; one for each week left in the year. Of course, the first thing Eli did was dump them all out. As I watched them fall to the floor I couldn't help but think of my oldest sister.

Tragically killed in a car crash, her pennies were emptied from her proverbial jar all at once. A picture of my friend undergoing cancer treatment came to mind. How many pennies did God put in her jar? Or in the jars of the brave men and women serving our country overseas? Or in my jar?
What about yours?
Unfortunately, as Eryn so eloquently wrote in about in her book, we aren't guaranteed a full jar of 936 pennies with our children (1 penny for each week from birth to 18). None of us knows if all 52 weeks in the year will be fully spent from our jar either. However, the Lord  knows.
      "Your eyes saw my unformed body; all the days ordained for me were written in your book before one of them came to be." Psalm 139:16 (NIV)
While the world shouts to "Eat, drink and be merry", my Savior calls me to live with eternity in mind. Believers don't have to think about "YOLO" (You Only Live Once) because we know Jesus is preparing a place for us in heaven so we can spend eternity with him.
I've always wanted to join my friends in the popular trend to choose a "word" that would define and guide my direction for a new year. Up until now I haven't been able to decide.
Definitely not known for my ability to make a decision, I am teased by my husband that my favorite color is plaid. Yet even with a plaid mindset, sometimes I see things as black and white. If I chose one word, it negates the effect of other words in my mind and there are just too many worthy words to choose from.
How can I chose love and pass over joy? I long to be brave, but not at the expense of being compassionate. I'd love to be more adventurous but what about being holy? See my dilemma?
So four months into the year, I finally have my word. And I may never have to choose another one.

Since reading Eryn's book I have been more intentional about…well, just about everything.
What I eat, what I read, what I watch. How I spend my time and who I spend it with. I'm more cognizant of the time and trying to honor others by being more prompt. I'm looking around to see who God brings into my path and how I might minister to them; with a smile, a word of encouragement, or a prayer. I'm attempting to be a better listener so that I can speak words of life in response. I definitely haven't perfected any of these practices, especially the prompt one (insert winky face emoji) but I am much more  intentional about it.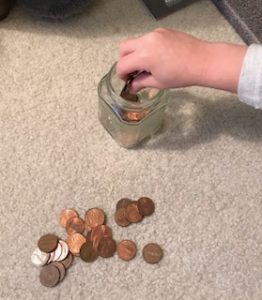 When Eli finished playing, we began to put the pennies back into the jar. I couldn't help but notice the varied conditions of the pennies. Eli noticed too, "What's wrong with this penny?" he asked. "It's just old" I answered. We compared its corroded appearance to the shiny new one.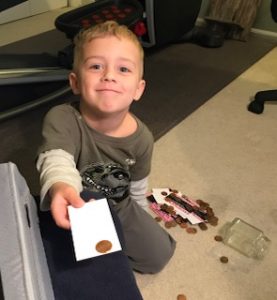 I reflected on the first fifteen weeks of this year. Some are filled with shiny new memories, while other weeks passed in a blur of activity leaving me worn out and feeling as old as that penny.
As I set the jar on the shelf it occurred to me that while the pennies were in various conditions, all of them were inscribed with "In God We Trust".
As a believer, I say that I trust in God, but do I always act on that belief? Or do I waste unnecessary energy worrying over the "what if's" of life? Do I wander in the desert of unbelief when I could live in the promised land of answered prayer? How would God's Spirit move if I waited in hope and trusted in his faithfulness?
The psalmist asks God to
"Teach us to number our days, so that we may gain a heart of wisdom."  
  Psalm 90:12 (NIV)
Have you ever asked God to help you do that? Me neither. Until I read Eryn's book.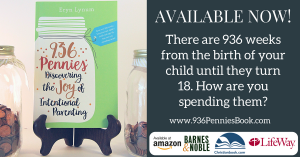 I counted the pennies in my jar. Thirty-seven.  Will I get to spend them all? I have a lot of plans  but I know that the Lord's purposes will prevail.  He knows the plans he has for me, plans to give me hope and a future with him in heaven.
Trusting the Lord will help me be more intentional about spending my pennies wisely, no matter how many are left.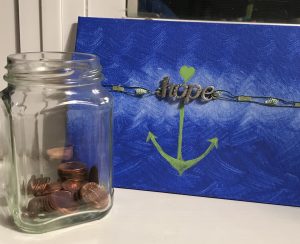 What will you do with the pennies in your jar?