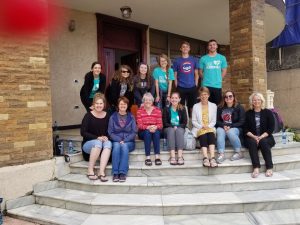 Dear Friends and Family,
I've been home three weeks now and am still processing all that the Lord did on our mission trip. I can't thank you enough for your prayers on our behalf. They were the foundation for what the Lord began to build in and through us. I felt like I was getting sick the day before we left. Anxiety  about my health reached an all-time high Sunday night in the DC airport hotel. I was grateful to be in a room by myself because I was definitely doing battle in prayer. My family texted amazing prayers and words of encouragement and they were the beautiful beginning of gathering much "plunder" from the enemy who tried to rob my confidence in God and joy of serving him. The next morning I had the privilege of witnessing to a Muslim shuttle bus driver and plant seeds of hope for him to discover Jesus. God ordained many conversations throughout the trip with team members, field staff, and strangers. Only heaven knows the impact your prayers will have on eternity.
It's not often that I am at a loss for words, but my experiences have been swirling around in my mind and heart for three weeks now and I'm still not sure they're ready for the page. However, I do want to thank and encourage you in knowing how God used your prayers. Truly, "on him we have set our hope that he will continue to deliver us, as you help(ed) us by your prayers. Then many will give thanks on our behalf for the gracious favor granted us in answer to the prayers of many." 2 Corinthians 1:11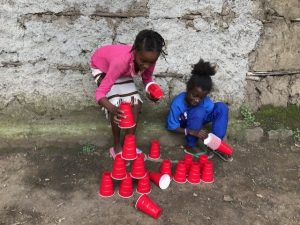 Our team leader felt your prayers as she led our group with unity and love overflowing for one another. As connection came quickly between the Children's Hope Chest staff and our team, we shared many testimonies of God's goodness and grace and in their words "were messengers sent by God to encourage them." We were all amazed and gave praise to God for his gracious blending of our cultures, ages, giftings and callings.
Watching the body of Christ work in harmony is a beautiful thing to behold; especially between cultures. Truly, Jesus is Lord of all nations, tribes, tongues and peoples. Precious worship and praise time together knit our hearts together for eternity.
Our travel totes full of supplies arrived on time and intact. While we inadvertently left our medical tote in Hawassa, 4 hours from Addis where we spent the last 3 days, we are trusting that the Lord had a purpose and plan for it to be used at the Care Point. God was gracious to those of us who got sick and we are all back to good health.
I was able to learn many phrases in Amharic but the worship time with the Carry 117 women didn't come to pass. God used my time there in other ways but the scriptures I'd prepared to use were shared in two other settings. A testament that while we can plan our steps it's the Lord who directs our path. He prepared me and it was a joy to encourage other believers in unexpected settings and ways.
God kept us safe throughout our travels. The journey was long; but I was incorrect about the length of the international flight…more like 13-14 hours and not 20. It's a good thing I teach kindergarten…amen?! The only mishap was  a lost shoe on the flight home. It was so strange. I took off my shoes to sleep on the evening flight from Addis to Dublin. Two Aleve PM pills did the trick and when I woke up in Dublin I went to put on my shoes to use the bathroom. However, only one could be found. I thought surely it would be discovered under someone else's seat once the plane cleared of passengers when we landed in DC. Nope. Four flight attendants and I scoured our area and while I saw how disgustingly dirty the floor of a plane can get, no shoe was in sight. I had to laugh at this turn of events. I think the flight attendant thought I would be angry. She kept remarking about my good attitude and even took my picture! During our search I was able to give praise to God for a wonderful trip, and his ability to help me find my shoe if it was his will. Obviously, after 15 minutes of searching the empty plane it wasn't, so what else could I do but chuckle at the Lord's sense of humor? Perhaps, God will use it as a seed planted in their hearts that all things are sovereignly under the control of our loving God. I know it was a good word picture to me that walking with a limp might just be what God wants me to do as he does something unexpected.
I hope to share more specific testimonies about the Care Point and our time at Carry 117 at a women's ministry event this summer at FBBC. There are still 33 children who need a sponsor in order for the Care Point to be fully funded, in case God is prompting you… http://warancha.hopechest.org/sponsor/
Meeting my sponsor child and her family was an unforgettable experience. I hope to find the words to describe it soon.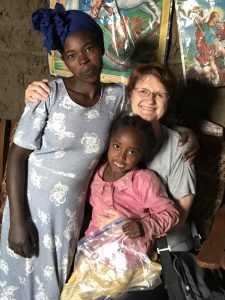 In the meantime, Ameseginalehu…Amharic for thank you.
May God bless you abundantly for your partnership in the gospel.
Joy overflowing,
Cindy
© June 2018
Sorry about the pictures sizes and placement…something is wrong and I can't figure out how to fix it 🙁