Questions search for answers. Challenges require responses.  If we fan the spark of our faith, then the flames burn bright.
The fire of my faith needs a little tending;  ever felt that way?
I want to live inspired, with a holy passion to love God and his people. But lately, I've been discouraged. Finding myself on the short end of the comparison stick I've questioned my calling, my gifting, and my purpose. Struggling with relationships, time management, and organization, I wonder how God can use me at all. I am well aware that it's not wise to compare myself with anyone else, yet I find myself in a spiritual battle of insecurity.
Enter IF: GATHERING 2018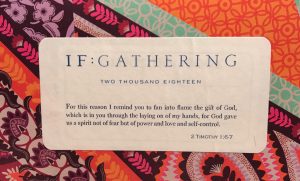 Joining with a small group locally, my heart united with thousands of women across this nation and around the world gathered in homes, churches, and auditoriums to praise, ponder, and persevere in our faith in Jesus Christ.
Reminded that I have been entrusted with the gift of faith, I was challenged by many questions posed for pondering.
"Why are so many believers living an unbelieving life?"
"Do I act out of faith or fear?"
"Does what I do bring glory to God or me?"
Never one to enjoy being alone in a challenge,  I pose these questions to you. And add one of my own:
How can we join together to push back the darkness with rekindled flames burning in our hearts?
Flames of forgiveness, poised to build bridges of understanding for reconciliation.
Flames of confidence because greater is He that is within us than he that is in the world.
Flames of encouragement for battle weary believers hanging onto hope for possible endings.
"Let us hold unswervingly to the hope we profess, for he who promised is faithful. And let us consider how we may spur one another on toward love and good deeds, not giving up meeting together, as some are in the habit of doing, but encouraging one another-and all the more as you see the Day approaching." Hebrews 10: 23-25 (NIV)
While we don't know when the Day will arrive, scripture is clear, Christ will return.
Will he find us living in faith or fear?
Will we be powerless or prayerful?
Will we be hanging onto hope?
If  we don't intentionally stoke the fire of our faith gifts, the embers can grow cold. We were created for fellowship, with the Father and each other.
Hope gathers courage and finds strength when we fan the flames together. Thank you IF: Gathering and IF: Local for fanning the flames.
© 2018 Cindy Richardson