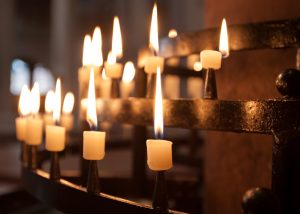 Candlelight and contemplative music ushered me into a place of reverence. I'd been invited to celebrate Good Friday and experience a bit of  Jesus' final hours at my daughter's church.
After dinner, carnival games and  hunting eggs, we were ready to enter the room set aside for the real reason to celebrate Easter. Designed to highlight the events of the crucifixion, each station displayed the scriptural account of what took place on the first Good Friday.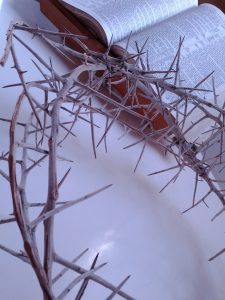 The children cautiously entered the dimly lit room  behind me. We gathered around the first station with their parents.
Curious, my grandchildren were full of questions about the thorns laid on the table before us.
Careful not to poke their finger, they gently picked up a small branch.  "How did they make this into a crown?" Audrey's tiny voice asked through the darkness.
Her daddy explained and the children were sure they would never want to wear a crown like that. Their solemn faces gave hope to the understanding that Jesus did, so we wouldn't have to.
The next station displayed a piece of wood, hammer and nails. Compelled to pick up the hammer, I ran my hand along the smooth handle as my son-in-law read the scripture and instructions for this station. In contrast, the rough, raw wood already held several nails. Holding the hammer I felt the weight of my sin. Going first, I confessed my sin and  began hammering.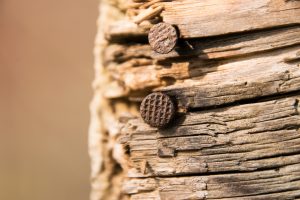 The clang of metal upon metal made me cringe. I didn't expect to be so affected. Despite the contemporary setting and the conversation of my grandchildren I was transported  back 2,000 years to the place of the Skull. The wood shifted in my hand as I continued banging. I pictured my sin nailing Jesus to the cross. I could no longer see through my tears.
Sin, shame, secrets.  Everyone is affected.
Anger, adultery, addiction. No one is immune.
Betrayer or betrayed, bully or belittled; the sting of sin is an unwanted messenger, hell bent on separating us from our Creator.
Enter hope.
Enter Jesus.
Sinless, shameless, and the secret is revealed.
Sin has lost it's sting!
Jesus said, "The thief comes only to steal and kill and destroy. I came that they may have life, and have it abundantly." John 10:10
We no longer have to hide in shame. Jesus absorbed the wounds inflicted by sin and wore our shame like a bloody robe. Unbelievably, in exchange he gives us his robe of righteousness to wear.
Our debt of sin was paid, in full, by the only One who could.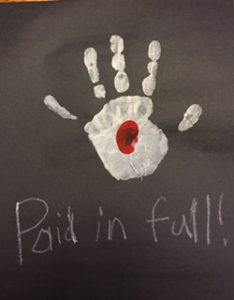 Jesus said,
"Come to me all you who are weary and burdened I will give you rest." Matthew 11:28
Rest from the weariness and the burden of sin; ours and the effects of those who sin against us. Jesus makes the great exchange at the cross and offers us freedom.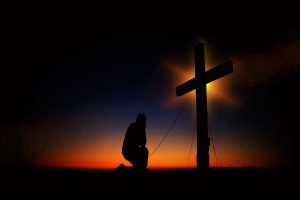 Freedom to forgive rather than seeking revenge.
Freedom to give generously instead of being consumed by possessions.
Freedom to overlook offenses instead of cultivating roots of bitterness.
The great exchange gives hope in the gift of the Holy Spirit.
Through God's Spirit,
anger gives way to gentleness,
lies find their way to the truth,
peace replaces anxiety,
and discouragement and despair find HOPE.
What are you hoping for today?
Whatever it is, you'll find hope in the words and life of Jesus Christ.
Jesus said, "It is finished."
With that, he bowed his head and gave up his spirit so that we might have life in the fullness of his love.
Hallelujah, what a Savior!
© Cindy Richardson 2018