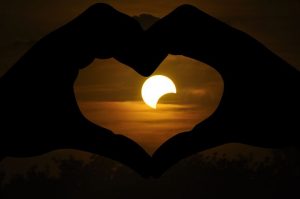 I can't stop thinking about the eclipse. Magical and even spiritual have been used to describe that awe inspiring moment when the moon revealed the glory of the sun.
Planning, prepping, and positioning took place all across our nation in anticipation of the recent solar eclipse.
Due to the weather, weeks of hype were met with delight or disappointment, depending on where you were positioned  on  August 21, 2017.   Somewhere in "The "Path of Totality",  Bonnie Tyler was on a cruise ship singing her 80's hit "Total Eclipse of the Heart". I wonder how many thousands who flocked to the cities in the "Path of Totality" were as disappointed as the jilted lover in her lyrics suggest?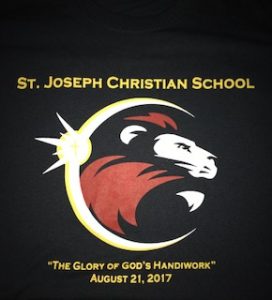 With school cancelled and  many businesses closed, residents of St. Joseph, Missouri planned viewing parties as we geared up for the eclipse. Excitement was contagious in the city listed as the third best spot to view the eclipse. St. Joseph Christian School even created a T-shirt!
Unfortunately, what most of us experienced were clouds, rain, and a few moments of darkness.  Expressing the sentiments of many, one Facebook post read, "We cancelled school for that?!" 
Despite the disappointment that rolled in with the clouds, we hoped to catch a glimpse of the eclipse since viewing it in totality was clearly not in our forecast.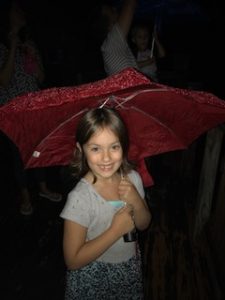 Trading  eclipse glasses for umbrellas, we headed outside at the appointed time to experience history in the making.
Darkness tiptoed in as a holy hush surrounded us; as if all creation paused to acknowledge the Creator.
Confused crickets began singing, raindrops ceased, then daylight reappeared.
Hoping for a view of the waning eclipse, we grabbed our glasses  and rushed to the front of  the house, met by neighbors sharing our hope.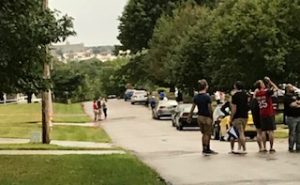 But after a few minutes of staring into the still cloudy sky, disappointment  filled the air and most people went back indoors.
Hanging onto hope, I stayed outside.  Eventually the clouds parted, providing a full view of the waning eclipse.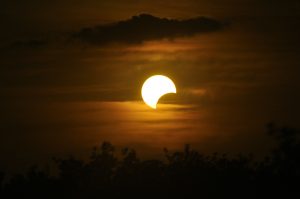 A total eclipse is defined  as one celestial body completely obscured by the shadow or body of another. The New York Times reports, "Total solar eclipses offer marvelous opportunities to study Earth's intimate relationship with the sun."
For me, it's been an opportunity to study my intimate relationship with The Son.
Instead of viewing God in the totality of His Word, lately I've found myself focusing on my circumstances.
Why do I let trials eclipse the truth of God's word focusing on the problem
instead of the Problem Solver?
Why do I waste time and emotional energy worrying about the  "what if's" of life  when Jesus says worry has no power to change any thing?
Why do I let the opinions of others cloud what Jesus says about my worth?
Why do I play around the pit of despair when Jesus offers hope?
 It doesn't take a  scientist to observe that our culture's view of God's Son has attempted to reduce his glorious splendor. From "good teacher" to curse word, the name of Jesus evokes a variety of images and emotions. Are my reactions to life's challenges eclipsing my testimony to others; reducing his splendor, status or reputation as the One True God?
 Did I fall in love with Jesus only to fall apart when financial pressures, broken relationships or an unwanted diagnosis eclipse the truth that he will never leave or forsake me?
When I wear glasses of discouragement, disillusionment, or despair, the majesty and beauty of God is eclipsed.  Unfair and unjust circumstances can skew my view of God's justice and power.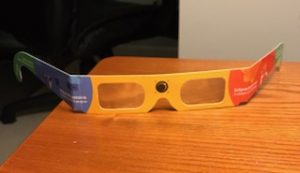 Sometimes I have to change glasses to remember that I am fearfully and wonderfully made in the image of God. He loves me with an unfailing and everlasting love. He will never leave me or forsake me. He is for me, not against me. Even when the rain comes and the clouds refuse to let the light shine through, God's Son brings hope and healing.
Wearing dirty glasses of unconfessed sin can also eclipse God's Son. Refusing to humble myself and ask forgiveness results in stumbling  in the dark. Glasses that are unapproved by God leave me  focused on the  rules of religion rather than relationship with the Father through His Son Jesus Christ.
Where do you find yourself today? Are you wearing approved eyewear viewing God through the truth of His Word, or do you need to change glasses so that you don't have a total eclipse of His heart for you?
Remember that God's love for you is like a shadow over you all the time. When you can't see the sun, you can be sure that his love is in the shadow. Don't let life's circumstances eclipse his great love for you.
© Cindy Richardson 2017