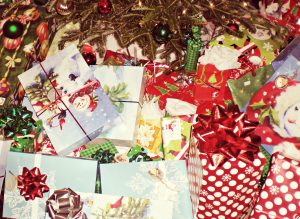 Breathlessly I waited as we opened the door to our family room to what I hoped would be Christmas heaven. Old enough to remember the splendor of the prior Christmas, I was expecting more of the same. My siblings would pass out the presents and we'd pile them up around us. Part of the fun was watching each other open presents; eagerly anticipating what wonderful gift might be inside each beautifully wrapped package.
With one swift motion the door opened. Instead of beautifully wrapped presents under the tree, my gaze fell on clothes and a few toys laid neatly in piles. Not a single gift was wrapped! Names were written on masking tape and placed strategically on each item. Disappointment came over me like a wet blanket. Why weren't the presents wrapped?
It was not the Christmas I expected. Already suspecting that Santa was fantasy, the lack of wrapping seemed to answer the question I was afraid to ask.
Perhaps my crestfallen look led to the terse conversation I overhead despite hushed tones.
"I told you we should have bought the wrapping paper." My mother whispered to my father.
"And I told you, wrapping paper is a waste of money." my father replied.
My childish disappointment at the lack of wrapping almost ruined my Christmas that year. I had no idea that declining health had led to my father's job loss and mounting medical bills. I'm sure their dwindling budget dictated the naked presents.
As I reflect back I realize that my parents, out of great love for us, sacrificed greatly to give us any gifts at all. Most of the presents were gifts that we needed. Unfortunately, they weren't nearly appreciated as much as the gifts we wanted.
Another gift was given at great sacrifice at Christmas.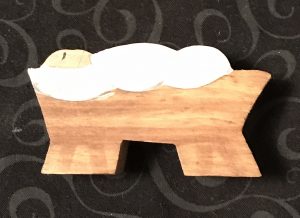 Wrapping himself in love, God became flesh. Entering our world as a babe wrapped in swaddling clothes, Jesus is the gift of God's presence.
Jesus is the gift that everyone needs, but not everyone wants.
Joseph didn't want the gift at first. Most likely disappointed, hurt, and  worried about Mary's reputation, he wanted to break off his engagement to when he found out she was pregnant.
Fearful of losing the power of his throne, King Herod had all the male babies killed in order to prevent anyone from receiving the gift of the newborn King
Longing for a commanding earthly king, the Jews were disillusioned by the humble servant leadership Jesus offered. Unmet expectations led them to reject the gift of their Savior.
Religious leaders, desperate to keep their prestige, schemed to crucify God's gift.
Life can be hard. Broken relationships, financial pressures, and challenges in parenting. can bring unbearable heartache. Health issues, shattered dreams, and death of loved ones often lead to weariness, sadness, and depression.
Receiving the gift that Jesus came to give shifts the focus from what is lacking, to what he provides.
Peace, love, hope, and joy despite heartache and loss is a gift that only God can give.
When I focus on disappointment and unmet expectations, like that Christmas long ago, I miss the love behind the gift.
Lavish love, wrapped in flesh.
Immanuel, God with us.
His presence is the present.
Unwrapping and receiving God's gift of love changes my focus. Embracing Jesus infuses me with more love to give to others. His joy overflows and his peace passes my understanding. Jesus is the gift that keeps on giving.