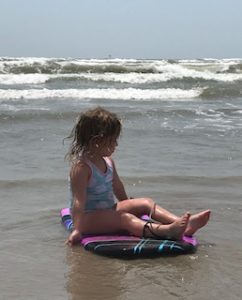 Savoring the last few days of summer feels like sitting on a boogie board long after the wave is gone, trying to capture every memory making moment.  The unhurried pace of summer contrasts sharply with the race to ready my classroom before school starts. Completing every task to feel "ready" often leaves me feeling like I'm trying to finish a popsicle before it melts! I have learned it's not a race that I often win.
As summer draws to a close, thoughts of vacations, visits and villas turn to pencils, paint, and p.e. shoes. New clothes, new classmates, and new things to learn await all who return to school.
As I prepare to welcome the students God has placed in my classroom each year, I think of those that I have taught in years past. With pre-k through high school students attending St. Joseph Christian School I have the privilege and joy of watching both kindergarten and high school students graduate. As remembering turns to praying, I am reminded that God put us together in kindergarten for his purposes. Not only for what I can teach them, but what they will teach me.
I remember two who graduated last year…
He was cute as a button; orneriness woven into every fiber of his being. Busy was an understatement. I surmised that God made him cute to help him survive his childhood antics! Oh, how I loved his joy filled smile and his energy.
She, on the other hand, was the model student. Attentive, obedient and kind. Not an ornery bone in her body; at least not at school. Wearing her joy like a beautiful crown, she exuded grace like very few five-year-olds I'd known. Oh, how I loved her heart.
It was Friday, and time to recite our Bible verse. We had worked 
on memorizing Psalm 118:28:
                        "You are my God and I will give you thanks;
                           You are my God, and I will exalt you."

All of the children recited it word for word, except for these two.
"Ornery boy" approached my desk and confidently said,
"You are my God and I will give you thanks; you are my God, and I will exhaust you."

 
It was all I could do not to laugh out loud! Yes. Yes –sometimes you do exhaust me, but I still love you. Then I smiled as I realized that God wasn't exhausted with ornery boy. Nothing he could do would cause God to grow weary of his antics. The Bible says that God is patient and kind. He is for us because he loves us – just as we are. I pictured God smiling as he listened to ornery boy recite his verse.
"Graceful girl" also switched out a word. Looking at me in earnest she began,
"You are my God and I will give you thanks; you are my God and I will absorb you."
I smiled to myself as I thought about her substitution. Yes. Yes – you seem to absorb every truth I've shared about God, and I see it reflected in your life. You're quick to forgive and slow to tattle. You share and play fair. I pictured God smiling as graceful girl recited her verse.
When you picture God, is he smiling at you?
You don't have to memorize Psalm 118:28 perfectly to please him. He smiles when he looks at you because you are made in his image. He has wonderful plans for your life.
I'm so grateful that God's plan for my life included being a kindergarten teacher. Early in my career I was given a plaque that read, "In everything I teach I have something to learn." I have learned a lot over the years from my students; and not just with their Bible verse bloopers.
I have learned that
 love really does cover a multitude of sins.
granting forgiveness is just as important as seeking it.
God's grace is sufficient and his power is made perfect in my weakness.
There's a special place in my heart for all those I've been honored to teach. I pray they experienced God's unfailing love in my classroom so that Biblical integration was more than head knowledge and memorizing Bible verses. I pray they desire to know Jesus personally, not just about him. A biblical worldview is meant to shape who we become not only what we think.
My classroom motto has always been "Mistakes are for learning."
We will make a lot of mistakes as we seek to become more and more like Jesus. Yet, we can take heart. God has much forgiveness, grace and joy for us to experience despite our mistakes. The truth of his word assures us that even if we've had some ornery antics, we will never exhaust his love.
Jesus smiles and beckons to us; come and absorb him.