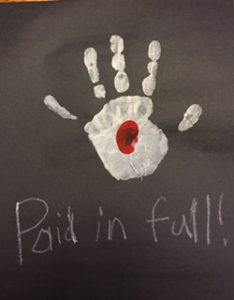 Secrets, shame, sin. Everyone is affected.
Anger, adultery, addiction. No one is immune.
Betrayer or betrayed, bully or belittled; the sting of sin is an unwanted messenger hell bent on separating us from our Creator.
"I will give you hidden treasures, riches stored in secret places, so that you may know that I am the Lord." Isaiah 45:3
Enter hope, enter Jesus. Lover of our soul. Sinless, shameless, and the secret is revealed.
Sin has lost it's sting!
We no longer have to hide in shame. Jesus absorbed the wounds inflicted by sin and wore our shame like a bloody robe, then gives us a robe of righteousness.
Our debt of sin was paid, in full, by the only One who could.
Jesus said,
"Come to me all you who are weary and burdened I will give you rest." Matthew 11:28
Rest from the burden and weariness of sin; ours and the effects of those who sin against us. Jesus offers freedom at the great exchange on the cross.
Freedom to forgive rather than cultivate roots of bitterness.
Freedom to give generously instead of being consumed by possessions.
Freedom to overlook offenses in place of wasting energy on revenge.
The great exchange gives hope in  the gift of the Holy Spirit.
Through God's Spirit,
anger gives way to  gentleness,
lies find their way to the truth,
peace replaces anxiety,
and discouragement and despair find HOPE.
What are you hoping for today?
Whatever it is, you'll find hope in  the words and life of Jesus Christ.