Breathlessly I waited as the door to our family room opened to what I hoped would be Christmas heaven.
Old enough to remember the splendor of the prior Christmas, I was expecting more of the same. Someone would play Santa and pass out the presents as we piled them high around us. Part of the fun was watching each other open presents; eagerly anticipating what wonderful gift might be in each beautifully wrapped package.
With one swift motion, the door opened. Instead of beautifully wrapped presents under the tree, my gaze fell on clothes and a few toys. Not a single gift was wrapped. Our names were written on masking tape and strategically placed on each item. Disappointment came over me like a wet blanket. Why weren't the presents wrapped, I wondered?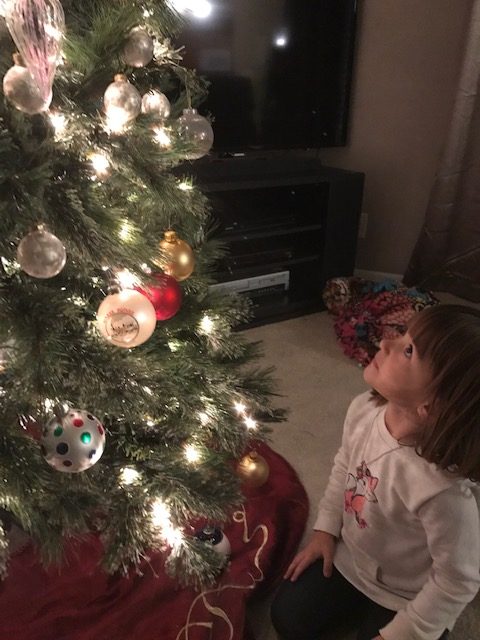 It was not the Christmas I expected. Already suspecting that Santa was fantasy, the lack of wrapping seemed to answer the question I was afraid to ask. Perhaps our crestfallen looks led to the conversation I overheard in hushed tones.
"I told you we should have bought the wrapping paper." My mother whispered to my father.
"Wrapping paper is a waste of money," he replied.
My childish disappointment at the lack of wrapping almost ruined my Christmas that year. I had no idea that declining health had led to my father's job loss and mounting medical bills. I now know their dwindling budget necessitated the naked presents.
Great love spurred my parent's sacrifice to give us any presents at all. Unfortunately, the presents that were needed, were not nearly appreciated as much as the gifts we wanted.
Which reminds me of another gift given with great love and sacrifice at Christmas.
Wrapping himself in love, God became flesh.
God's present is the gift of his presence; Emmanuel, God with us. 
Jesus is the gift that everyone needs,
but not everyone wants.
Disappointed, Joseph didn't want the gift at first, seeking to dissolve his engagement when Mary revealed she was pregnant.
Fearful of losing his throne, King Herod despised the gift, then slew thousands of baby boys in hopes of destroying the gift.
Disillusioned with the humble servant leadership of Christ, God's chosen people rejected the gift.
Anxious to keep their power and prestige, religious leaders schemed to crucify God's gift.
But despite being subject to public ridicule and even possible stoning,  Mary received the gift. "I am the Lord's servant. May it be to me as you have said."
What are you doing with God's gift?
Life can be hard, especially at Christmas. Sadness, fear and anxiety can creep into the most faithful believer. Broken relationships, financial pressures, and shattered dreams can spiral from discouragement to depression.  Health issues, parenting challenges, and the death of loved ones can bring unbearable heartache.
Jesus said that he came that we might have joy and experience his peace.
Have you opened the gift of peace and joy despite your circumstance? How about the gift of hope when you feel hopeless?  Jesus sees, knows and understands because he was despised and rejected, a man of suffering, and familiar with pain. Isaiah 53:3
Receiving the gift of Jesus  shifts focus
from what is lacking,
to what is given.
When I focus on unmet expectations and shattered dreams, like that Christmas long ago, I miss the love behind the gift. Embracing this gift of love helps shape my perspective on my circumstances; even when I struggle to understand, or when I'm tempted to give up hope.
The good news that brings great joy is Jesus; Christ in us, the hope of glory.
Go ahead and open the gift, then share it with a friend.
Merry Christmas!
© Cindy Richardson 2018