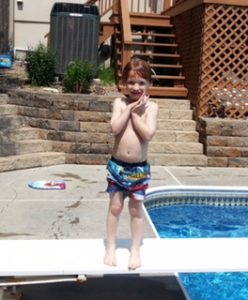 I had been doing well until her casual question brought unexpected tears. We'd met last year at swim lessons and naturally this acquaintance was wondering if I would accompany my grandson again this summer.
Standing in the middle of Panera, I took a long, slow breath trying to stop the tears from flowing long enough to answer.
"Actually, I just returned from helping my daughter and family move to Texas." There would be no grandchildren taking swim lessons this year to enjoy.  It was the first of many things that would change with their move.
We had a short exchange before I headed into the lobby.  Pausing to collect myself, I felt a hand on my arm.
"Can I pray for you?"
With each encouraging word she prayed, comfort and peace filled my soul and hope replaced the sadness.  We shared a hug and parted.
Walking to my car, memories of last year's swim lessons filled my mind. I recalled the questions of one young swimmer.
"What if I drown?" Her tiny voice reflected anxious thoughts.
The fear of the unknown seemed to overtake her as she prepared to jump into the capable arms of her teacher.
I watched as the five year old timidly approached the edge of the pool.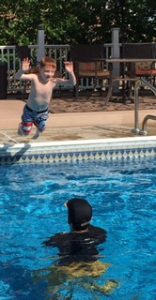 "What if I drown?" she asked again, this time sounding as if she was on the verge of tears.
"Do you think I'd let you drown?" came the comforting response.
Too caught up in her own anxious thoughts to answer him, she asked another question, "What if I touch the bottom?"
Patiently he addressed this fear with a similar question,
"Do you think I would let you go to the bottom?"
"What if…"
This time, his kind but firm response interrupted any further objections.
"You can do this, let's take one step at a time."
The tiny swimmer eventually built up enough courage, listened to the voice of her instructor and proved her trust by jumping into the water. Cheers were heard from parents and spectators alike as we celebrated  her victory.
A few days later I accompanied my grandson to swim lessons again. The young swimmers had made progress, yet still had much to learn. Attempts to master the art of swimming with their face in the water  prompted another exchange between student and teacher.
"Don't stop to wipe your face, just keep going."
Still wiping water from her eyes she protested, "But, I couldn't see!"
"You don't need to see, I'll take you where you need to be."
Comforted by his reassurance, the young swimmer's trust overcame her objections.
Fear returned though, as the last game was announced.  Monkey Dunk. The "monkey" would be dunked, then helped to find the edge of the pool upon floating up to the surface.
Laced with fear, her voice interrupted the explanation of the game.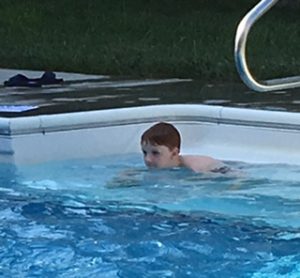 "I know this game, you make us drown…"
"I help you under the water" he interjected.
"Do I have to do this all by myself? I don't want to do it!"
"You'll be fine, I'm right here."
She eventually played the game, and she was fine.
And I will be too. I can trust The Instructor.
Learning to swim through life is easier when I listen and believe the voice of God . There are plenty of life lessons to learn.
Swimming through  unresolved conflicts, financial pressures, or health issues can sometimes make me feel like I'm drowning. Regrets from the past and questions about the future can turn into waves of uncertainty,  anxiety and fear.
When those waves threaten to engulf me I find myself crying out,
 "What if I drown?  I can't see! I don't want to do this!"
Patiently God answers …
Trust in me with all your heart and don't lean on your own understanding. In all your ways acknowledge me and I will direct your path.  Proverbs 3:5-6
When the lesson is over, I realize I have learned to swim.  I didn't  drown in sadness, anxiety, or fear. I don't even know the future, because God will take me where I need to be. He is right here with me and I will be fine.
Although I miss my daughter's family terribly, I know that God has provided an amazing opportunity for them. I am grateful that they've found their own family of faith and are learning to swim in a whole new pool. They too will be fine as they trust The Instructor's voice.
We really can do all things through Christ, one swim lesson at a time.
What has The Instructor been teaching you lately?