Text me O Lord. I blinked and shifted my gaze trying to refocus on the words through my new bifocals. Second reading revealed, Test me O Lord. That sounded more familiar. I knew the Bible couldn't possibly say text but for a brief second that is what my eyes saw and my mind registered. Smiling to myself, I thought, wouldn't it be nice to get a text from God?
Thinking about you today
Love you
Can't wait to hang out later
Call me
  bff
But wait,  he already has.  Each time I open his Word scripture becomes a text message straight to my heart.
 I have loved you with an everlasting love  Jeremiah 31:3
 I know that plans I have for you   Jeremiah 29:11
 Call to me and I will answer you   Jeremiah 33:3
 I will never leave you   Hebrews 13:5
I call you friend    John 15:15
I wonder how God hopes I will reply?
Love you too
Grateful for grace
Thanks for the blessing
Nice talking to you.
Love Your plan
On the good days when things are going well, that is what I would text back.  But if I'm honest, during the hardest times of my life, they would read:
This doesn't feel very loving
I don't like your plans
How long do I have to wait for an answer?
I can't sense your presence, where are you God?
Friends don't let friends suffer
Patiently, lovingly, and unapologetically, God messages back:
My thoughts are not your thoughts, neither are your ways my ways  Isaiah 55:8
My joy can be your strength   Nehemiah 8:10
Come to me when you're weary and I will give you rest  Matthew 11:28
My presence goes with you   Exodus 33:14
Do not let your heart be troubled and do not be afraid     John 14:27
Have hope    Psalm 71:14
When the storms of life threatened to engulf me, these words were an
anchor
for my soul.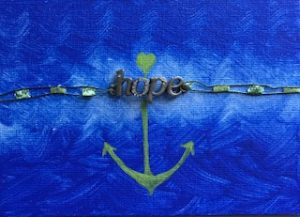 God  took my circumstances  and turned them into a story of redemption, grace, and mercy. He taught me to H.O.P.E.: Hang Onto Possible Endings.  His life giving words helped me refocus; even without a new pair of glasses.  So here's a text for you today:
Be joyful in hope, patient in affliction, faithful in prayer.    Romans 12:12
What is your reply?
© Cindy Richardson 2017