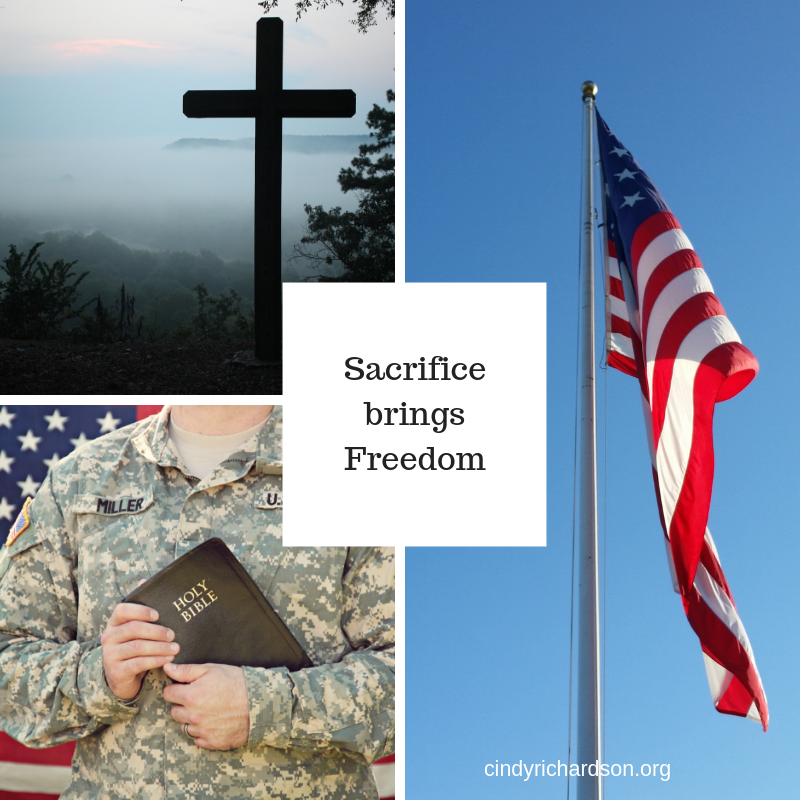 I woke up with these words in my mind, "Sacrifice brings freedom."  I was struck by the word sacrifice. Usually I thank Veterans for their service. Today I will thank them for their sacrifice.
I find myself reflecting on freedom; both in America and the freedom I have  in Christ. Both freedoms enjoyed and lived out  because of another's sacrifice. I am grateful to live in the land of the free because of the brave. Words aren't adequate to express my depth of feeling for the freedom I have in Christ.
Today I will accompany my kindergarten students, along with the fifth and sixth grade students to honor Veteran's who can no longer care for themselves. We'll take the bus into a neighboring town to  sing songs of patriotism, perform a skit and a stirring drum stick enactment of Lee Greenwoods song "God Bless the USA" at a Veteran's Home. I pray that we will bring some smiles along with our gratefulness for their service as well as acknowledgement of  their sacrifice.
Sacrifice of which my understanding is minimal.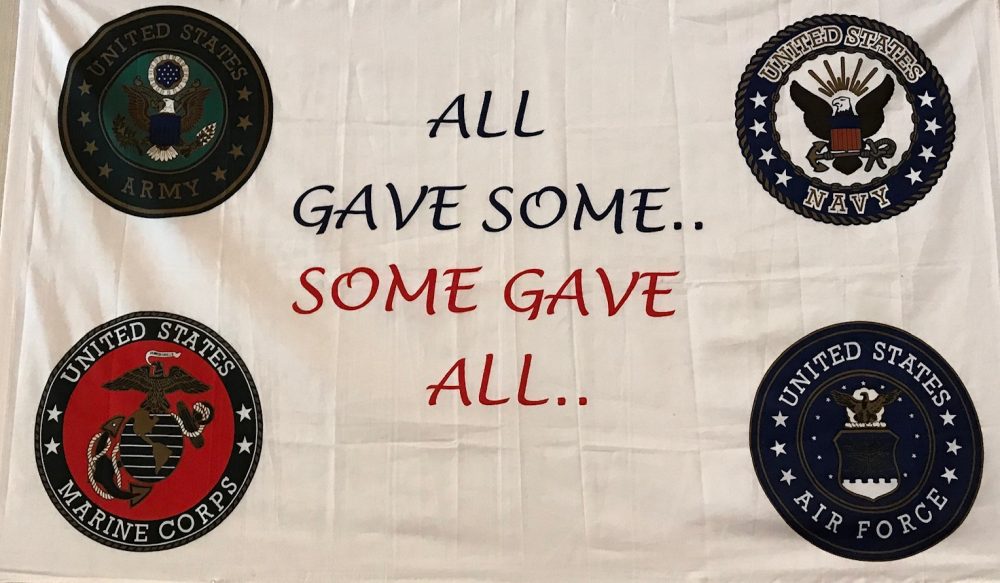 Families moved from base to base and state to state as one or both parents serve our country. Uprooting friendships, schools, and ties to the familiar; all for the good of our country. Parents gone for months at a time as they serve overseas while prayers for safety and  protection never leave the lips of those left behind. Unspeakable heartache when they arrive home wounded or for their funeral.
The sacrifice of military families ensures my freedom to teach at a Christian school. Daily  I am free to teach the truth of God's word in hopes that my students will be set free from sin.
"If you hold to my teaching, you are really my disciples.
Then you will know the truth and the truth will set you free."  John 8:31-21
It is for freedom that Christ has set us free from the bondage of sin.  With the power of God's Holy Spirit living in us we are free to forgive, free to love, free to serve without thought to ourselves or what we can gain.
The joy of the Lord can be our strength when hard circumstances and unfair treatment creep into our lives. His presence doesn't make our lives perfect, but his perfect presence brings freedom in the midst of disappointments, discouragement or despair.
The wages of sin bring death, but the gift God gives us  brings eternal life with him. Living free in Christ means I don't have to stay in cycles of sin, depression or anxiety. I can enjoy the freedom to love others without expecting anything in return. I can apply the freedom to overlook offenses and  honor others above myself.
"Greater love has no man than this, that he lay his life down for his friends."
John 15:13
America's freedom was paid for with the lives of many who laid their lives down for us.  Thank you Veterans, and all who currently sacrifice to serve our country. I am grateful for the many freedoms I enjoy, especially to teach God's truth.
Personal freedom, from the sin that separates us from God, however, was secured by the sacrifice of only One. We are bought with a price, the precious blood of Jesus Christ. I am eternally grateful for this supreme sacrifice.
May we learn to walk worthy of the freedom we've been given in the sacrifice of Christ as we enjoy the freedom given to all Americans by our veterans.